(Part 2) Hiking and mountain climbing with our Irish Terrier bitch Scooby-Doo Silvester von der Emsmühle - Trans Alp Tour from North to South
Hiking and Mountain Climbing with our Irish Terrier bitch Scooby-Doo Silvester von der Emsmühle (Part 2)
Trans-Alp Tour from North to South
About 2 months later Scooby-Doo accompanied us during our Trans-Alp tour in August/September 2013. We hiked from north to south starting in Oberstdorf in Germany, passing Austria and ending in Vernagt in Italy. We hiked for 10 days, had more than 1000 m altitude per day to overcome uphill and downhill on some days, sometimes in rainfall and snowfall, sometimes under a beautiful sun. We hiked on Europe's long-distance trail E5 with some variants, because most of the huts along E5 are so crowded in the summer period that the managers of the huts either don't take dogs at all or only let them sleep outside. For us, this was out of the question, because Scooby-Doo should sleep with us in dry and warm places. Therefore, we chose variants along E5 with less-crowded huts, where dogs were warmly welcome and where we did make reservations prior to the trip. In this manner, we did enjoy basic, but excellent accommodation, mostly in small, separate rooms, without any snorers around us. What a pleasure! And how lucky we were, to walk in the mountains together with our beloved dog Scooby-Doo.
On the first day we were extremely unlucky with the weather: it was raining cats and dogs…Together with us, Scooby-Doo bravely fought her way through the rain from Oberstdorf to Holzau, passing the Kemptener Hut, 700 m uphill and 700 m downhill.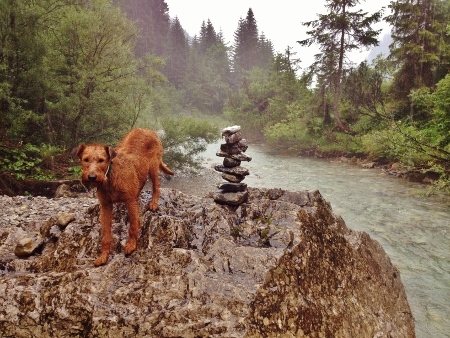 On the second day we walked 6 hours through bright sunshine from guesthouse Hermine in Holzau to Württemberger Hut. We walked through varied landscape, along rushing mountain screams, passed a deep gully up to 1200 m altitude and then 300 m down again through a rugged valley, with the more demanding sections being secured by climbing chains. Württemberger Hut is situated in the middle of the mountains and has to be supplied from the air via helicopter.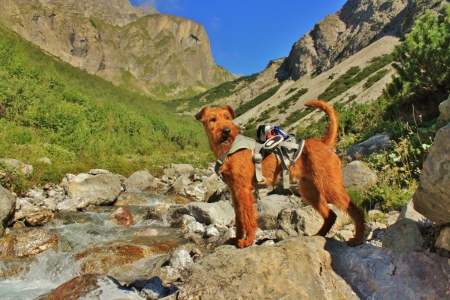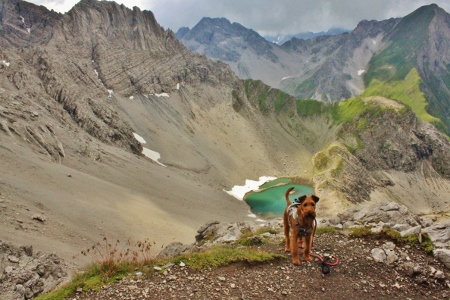 On the third day the way led us 1500 m downhill from Würtemberger Hut to the small town Zams. Then we took a ride in a gondola uphill to the Ski Hut Zams in 1800 m altitude. This day was very hot and the surroundings had a Mediterranean character. Altogether we hiked 5 hours this day and had a 10 min ride in the gondola, no problem at all for Scooby-Doo. At the Ski Hut the time was ripe for chilling.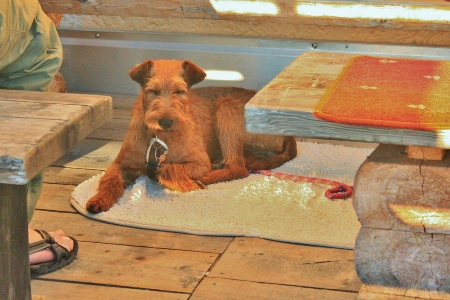 On the next day we took the gondola up to 2200 m altitude and then we further hiked up to the top of Venet in 2515 m in a bright sunshine. The further trip was along a magnificent ridge with a fantastic 360° view on the surrounding mountains, and Scooby-Doo loved posing next to plenty of stone dwarves adorning the path. Then we laboriously had to hike down for 6 hours to 1200 m until we reached Piller, where we stayed overnight in a horse ranch.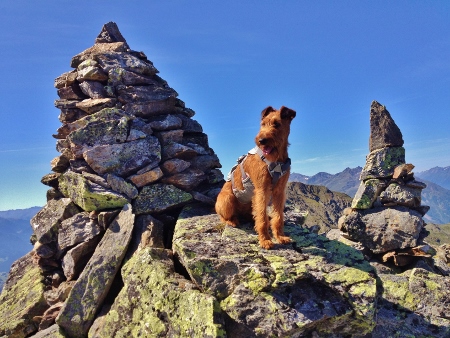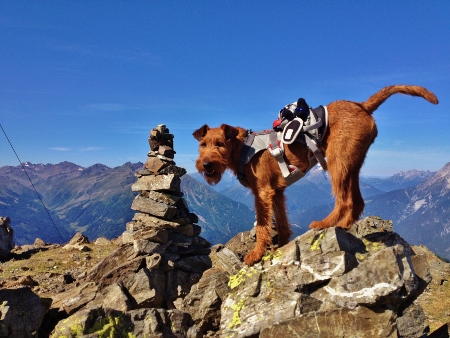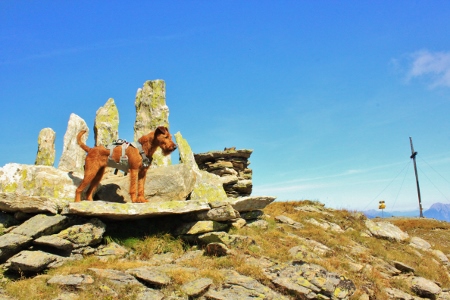 On the next day we hiked to guesthouse Wiesenhof in 7.5 hours, passing a ridge in 2400 m altitude, the so far highest point of the tour. The weather still remained dry, but we heard dangerous thunder somewhere far away, indicating a weather change. On the sixth tour we hiked uphill to Verpeil Hut at 2015 m altitude in 7.5 hours. The weather was still rather stable and we used early afternoon sun for regeneration in and under a hammock.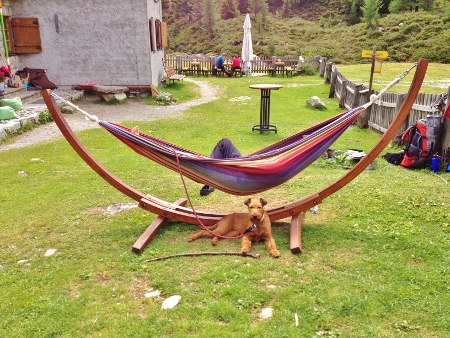 Snow had fallen further uphill during the night and it was raining without interruption the next day. We decided to stay for a day and another night in Verpeil Hut. So we had time to hike 300 m up to the snow and down to the hut again and to admire the four-legged inhabitants of the area.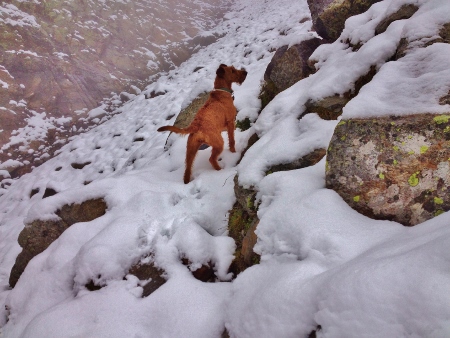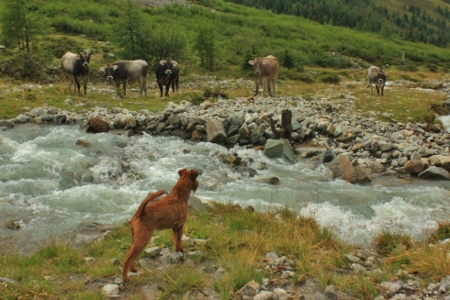 It was foggy further uphill the next day and it kept on snowing. We would have to pass a difficult climb which assumed too dangerous to us. So we decided to return back to the valley where we came from and to take the bus around the ridge to the next valley to Mittelberg where we stayed overnight.
The next hiking day lead us from 1700 m up to Braunschweiger Hut at 2700 m, the highest point to stay overnight during the whole trip. The hike uphill took 3 hours in poor visibility through fog and in unpleasant temperature passing the Jägersteig on partly exposed paths with steep flanks, which were secured with chains and steel steps at the most dangerous parts. Scooby-Doo moved freely and securely in the open terrain and we only secured her with her belt at the climbing sections.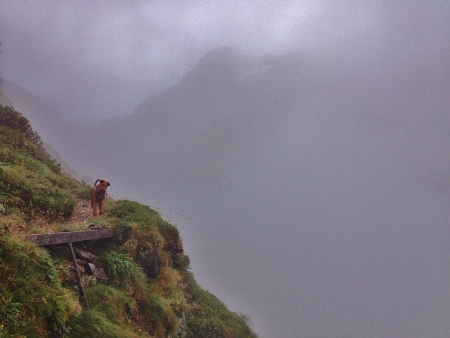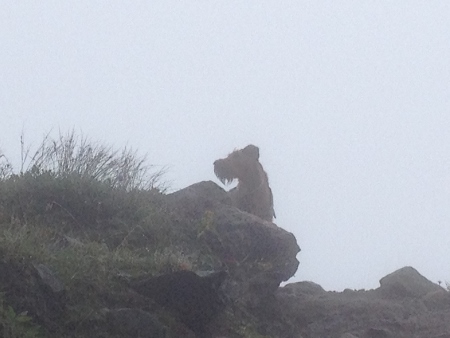 Further uphill it remained snowing and it became colder and colder. Scooby-Doo wore her winter coat for maximum cold protection.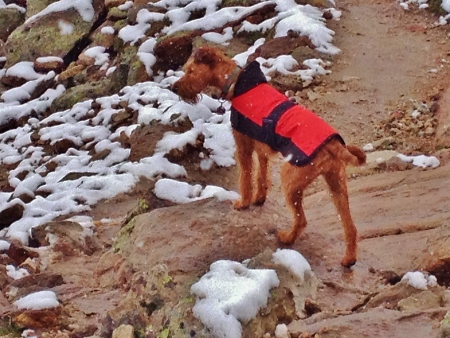 The next day Braunschweiger Hut was covered with snow and we hiked further uphill through the snow up to a ridge in more than 3000 m. Once again, Scooby-Doo moved without any problems in the snowy terrain.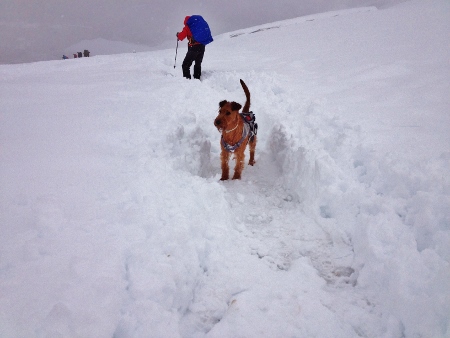 Beyond the ridge we went 100 m down along a ski-slope, took a bus for passing a dark road tunnel and finally went 1200 m downhill to Vent at 1700 m altitude. The path was wonderful and led us through rugged and lonely high mountain terrain passing lakes with freezing, crystal-clear water and ice-cold rivers.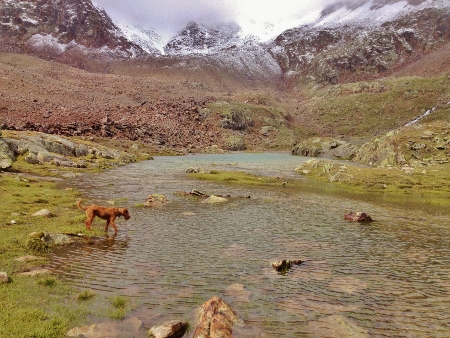 The next day we finalised our Trans-Alp tour after 8 hours hiking from Vent to Vernagt, the final destination of our trip in Italy. Shortly beyond the border between Austria and Italy we passed Semilaun Hut at 3019 m altitude, the highest point of the whole trip. Ötzi was found nearby. We were so close to the glaciers and the path again passed through snow. Scooby-Doo, once again, had no problems at all with high altitude exposure.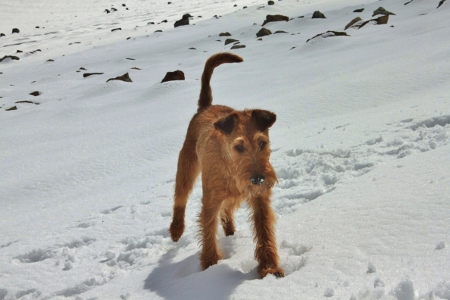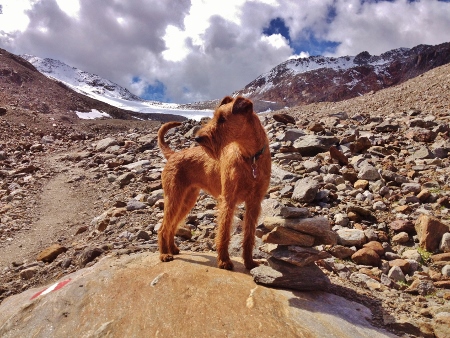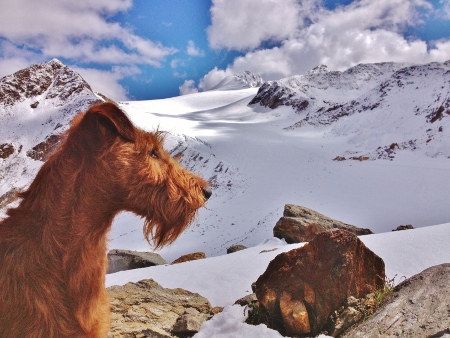 From Semilaun Hut we had a fantastic view onto the Italian Alps. Directly beyond the hut we went 1300 downhill towards Vernagt. During the whole trip we had plenty of pretty looks on our final destination, the blue and turquoise shimmering Vernagt reservoir.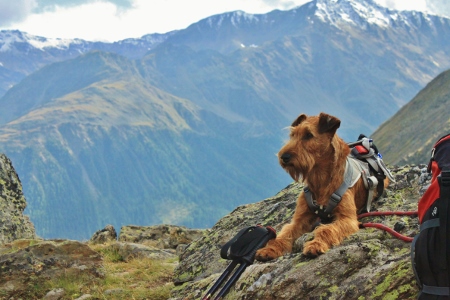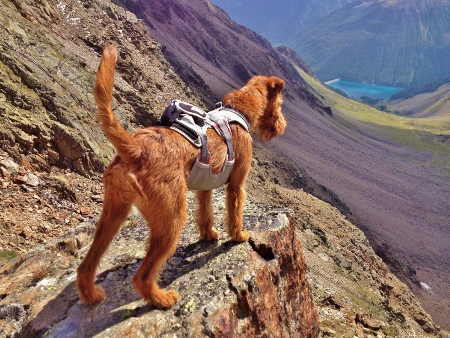 Altogether we managed nine daytrips during this Trans-Alp tour with plenty of height-meters up- and downhill under different whether-conditions and temperatures between 25° C and below freezing point. Scooby-Doo had at no time problems with high altitude and even at the highest point of more than 3000 m she had a lot of fun moving and running around. Her paws remained supple on various terrains with different surfaces, and she easily found her place in all huts and guesthouses.